UV Sheets Price in Pakistan
The current UV Sheets Price in Pakistan is Rs. 10000 per 4 feet x 8 feet. It was last updated on 11 September, 2023.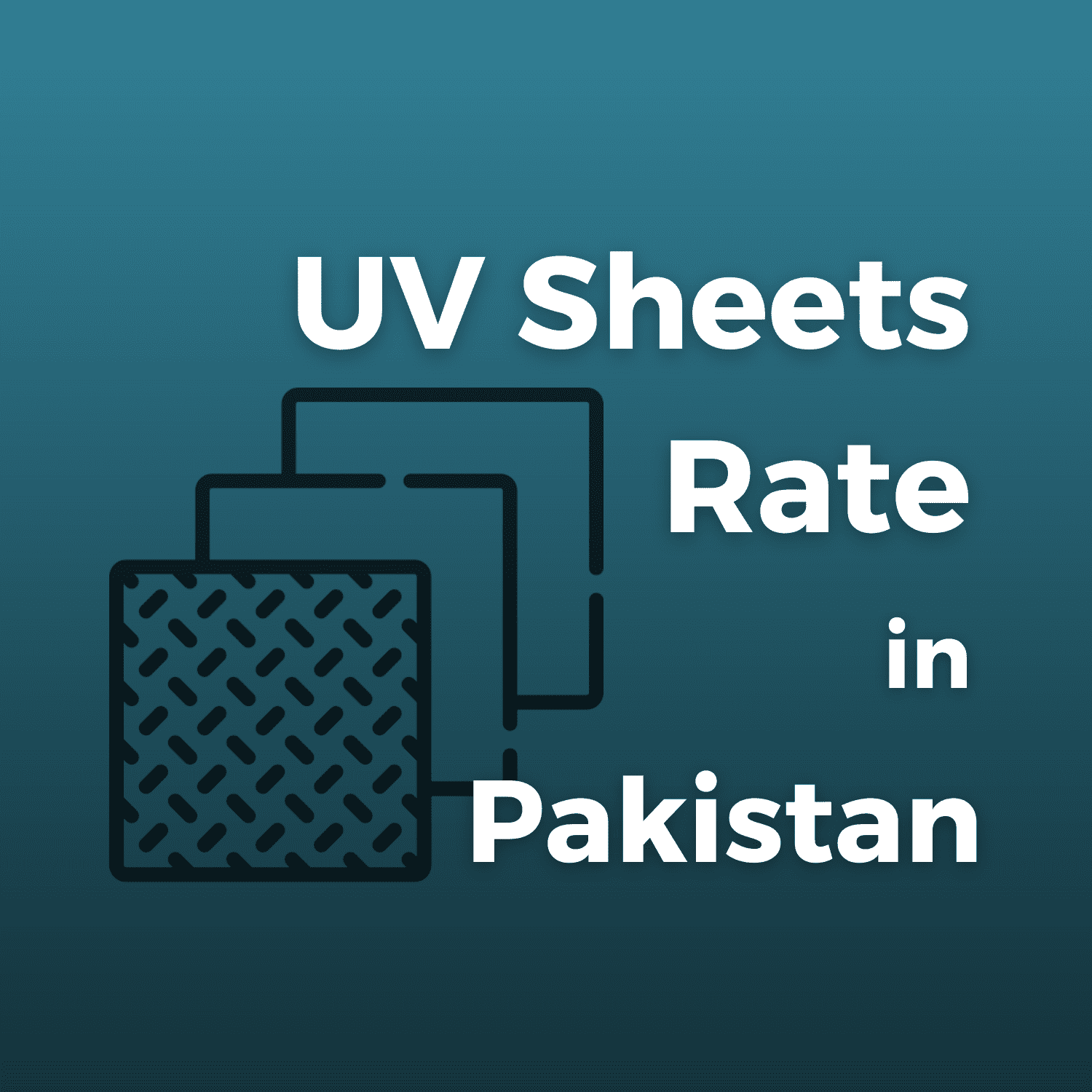 If you are looking for the UV sheets prices in Pakistan, you should pause here at this web page as this article provides you with all the necessary information related to UV sheets, mainly their price list and factors affecting the prices of the UV sheets.
These UV sheets are polycarbonate sheets that are constructed with polycarbonate resin material. They are widely used for home decoration purposes during home construction projects. They are used as partitions, skylights, roofing, and signage.
UV sheets are lightweight, durable, and tolerable to extreme weather conditions. They add to the looks of your house and can face UV rays and surrounding impacts without affecting their own structure or functioning. The article covers almost everything you need to know about UV sheets.
UV sheet prices in Pakistan are dependent upon different factors. The guide tells you about the description of those factors and the list of UV sheet prices in Pakistan, so you know how much money you should have if you are looking for the best quality sheets.
Before looking at the prices of the sheets, here I would like to put your attention to the unit used for measuring UV sheets, so you can better understand the prices per size.
How To Measure UV Sheets?
Generally, the UV sheets are measured by their area and thickness. They come in ranges from 1.5 to 3 mm in thickness and are available in variable area sizes, for example, 8 × 4 square feet. They are available in different sizes with different length-to-width ratios.
UV Sheets Prices In Pakistan
Following is the list of different types of UV sheet prices in Pakistan, each with a size of 4′ by 8′. Read the table carefully so you know what type of sheet would be adequate for you according to your budget.
| | | |
| --- | --- | --- |
| Type | Size | Price (PKR) |
| UV High Glass Sheet Price in Pakistan | 4 feet by 8 feet | 10000 |
| Modern Kitchen UV Sheet Price | 4 feet by 8 feet | 9500 |
| Wardrobe UV Sheets Price | 4 feet by 8 feet | 6000 |
| Light UV Sheet Prices | 4 feet by 8 feet | 5200 |
| MDF UV Sheet Price | 4 feet by 8 feet | 4500 |
| Laminated ChipBoard Sheet Price | 4 feet by 8 feet | 3000 |
| Super Gloss Sheet Price | 4 feet by 8 feet | 1500 |
Factors Affecting The Price Of UV Sheets In Pakistan
Following are some of the important factors that affect the prices of UV sheets in Pakistan.
Material
Thickness
Color
Size
UV protection
Quantity
Material
The type of material used in the manufacturing of the UV sheet affects the price of the sheet. For example, acrylic sheets are comparatively more expensive than PVC UV sheets. Similarly, illustrated sheets are also costly as compared to other types of sheets.
Thickness
The thickness of the UV sheet has a direct relation with the price. More thickness means more price and less thickness means low cost. Thicker sheets are comparatively more expensive and costly than thin UV sheets.
Size
The price of the UV sheets is also dependent upon the size of the sheets. The larger the size is, the more expensive the sheet will be.
Color
It has been noticed that transparent sheets are comparatively more affordable and budget-friendly than colored UV sheets. Similarly, tinted UV sheets are expensive as compared to simple plain UV sheets. That means you can go with colored products if you can afford them; otherwise, transparent sheets would be your best choice.
UV Protection
High-quality sheets with more reliable UV protection are expensive as compared to the low-quality sheets that come with low levels of UV protection.
Quantity
One of the major factors that affect the price of UV sheets is the quantity of purchase. If you purchase a bulk of UV sheets, there is a high chance that you will get a discount on the total cost. That means the per-sheet price is reduced when you purchase the sheets in bulk.
List Of UV Sheets Industries In Pakistan
Following is the list of reliable sheets suppliers in Pakistan that provides you with both bulk sheets and single products, whatever you want. Look at the list below and make sure to purchase the sheets from reliable manufacturers. The list includes,
Chawla Aluminum And Board Light Sheet
Thermopore Insulation Sheet Company
Hamid Awais And Brothers
AR Traders
Patex Experience Center
Hafiz Plywood
Maqsood And Sons Plywood
Hamza Traders
Tips To Get The Best Price For The UV Sheet
Do Proper Research
Make sure that you are researching and comparing the prices of different suppliers before finalizing the product. This will help you in getting the best price as you have so many options for suppliers.
Try To Get The Sheets In Bulk
Bulk quantity always decreases the overall price because most of the suppliers often provide discounts on the products purchased in bulk quantity.
Negotiation
You can also negotiate with the supplier to give you a lower price for the UV sheets. If you know how to negotiate on the price, there is high chance that you will get a good deal for the sheets you're purchasing.
What are the benefits of using UV sheets for home decor?
The UV sheets are environmentally friendly and can save your home from humidity damage. They are easy to install and water waterproof. The UV sheets are also reliable when it comes to heat insulation, mainly in the summer season, as they block the heat from passing. They are easy to customize and add to the looks of your house.
What are the disadvantages of using UV sheets?
They are extremely fragile and need extra care while handling. They can get cracks if they are handled badly. Moreover, the designs that are printed on the sheets are not really easy to print because of the construction material used in their manufacturing.
Are the UV sheets bendable?
Yes, UV sheets are extremely flexible, and you can easily bend them if you want. One thing that you have to remember is that you have to deal with the UV sheets softly, as they are fragile and prone to damage if they are not handled with care. Plus, if you bend it with more force, there is a high chance that it will get cracked.
What material is used in the manufacturing of UV sheets?
The construction materials that are used in the manufacturing of UV sheets are tough acrylic and polycarbonate. They are either made up of polycarbonates or acrylics or sometimes with a mixture of both. When you touch the UV sheets, you will feel like you are touching some plastic material.
What is a UV sheet?
A UV sheet is a marble sheet that is also called an ultraviolet sheet that adds to the look of your house. These sheets enhance the overall design of your house and give it a simple, sophisticated outlook. UV sheets are most commonly used for partitions, roofing, skylights, and signage.